My name is Melanie and as a passionate dog owner, I wanted to combine my work with my love of dogs. I have set up a dog grooming business in Standish, where gorgeous dogs are not only groomed to a professionally high standard, but are also treated as I would want my own to be – with care, patience and love.

I have undertaken an intensive course at Anrich Veterinary Hospital, where I have qualified with a Professional Diploma in Dog Grooming and attended a course on Animal First Aid to ensure that your dog is in the best possible care.

So now I am fulfilling my dream – spending all day caring for and having cuddles with pooches whilst making them look clean and smart.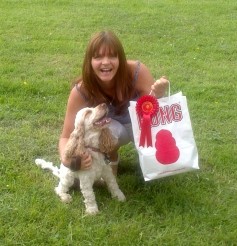 This is my Cocker Spaniel called Ruby and this is a very proud moment for me, as she had just won the waggiest tail competition!